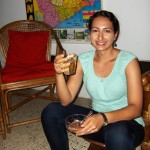 It was a quiet month in Kumasi, Ghana, nice and cool, with time for friends and gardening. We said goodbye to Nauzley and hello to Melanie, worked on the sanitation project, ate well and as always, saw many interesting sights.
OUR LITTLE PIECE OF HEAVEN IN WEST AFRICA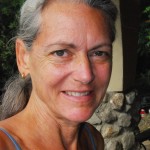 We made the most of Amy's last month in Ghana, celebrating Camille's 59th birthday at The Green Ranch, looking at fine Ghanaian art at the Artists' Alliance in Accra and strolling the Botanical Gardens at Aburi. We also made a trip to the Kumasi Zoo, toured the Guinness Brewery and located one of […]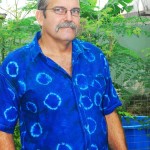 May presented us with two factory tours (Kente Cloth and Woodworking) some home improvements, lots of comings and goings, hellos, goodbyes and fresh beginnings.
DEEP IN
The fecal sludge to biodiesel project continues plodding along. Two brave men remove rumen from digester #1 at the […]
No kidding, April was a really good month for us. The rainy season has come, making gardening even easier. We enjoyed a trip to the coast for three relaxing days with Amy, featuring a stop at Kakum National Park. After our return from Elmina, long time friend Rob arrived to lend his engineering […]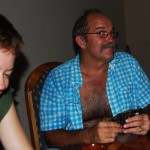 Friends, food and fun – another well-balanced month in West Africa.
HAMMOCK TIME
Koffi, who works with Elodie at the Green Ranch, takes his first test drive in a hammock. It is obvious that Jeremy is a veteran hammock pilot as he takes a break […]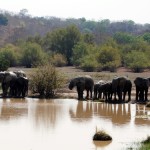 Two trips, one to Bosumtwi and the other to Mole National Park, Savannah plants, numerous wart hogs, horses, a new container for the project, goat worming, delicious meals, a dozen elephants and one exhausting bus ride.
BOB IN GHANA – 1975 AND 2013
In 1975 […]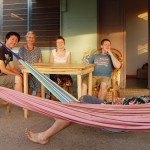 The first month of 2013 finds us in Kumasi, Ghana. We were joined by Amy this month, requiring a short, memorable stay at Osda House in Accra with a side trip to nearby Tema where Bob went to school forty years ago. Also this month: garden harvests, the dusts of Harmattan, a new Spot […]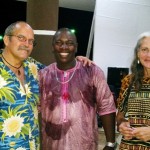 In a fabulous finale to another fine year, we celebrated life, common sense, fun and fulfillment. Fulfillment in the energy research project that brought us to Ghana, common sense in evacuating Kumasi after a chemical spill fouled the air, fun grooving to incredible live music, horse shopping with beautiful Elodie and chilling out at Lake […]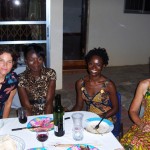 We have much to be thankful for as we enter our sixth month in Ghana. The biodiesel plant at Dompoase is taking shape, Jeremy's garden, goats and chickens continue to grow, we emerged unscathed from a traffic adventure with friend/driver Eric and we made some new friends.
THE […]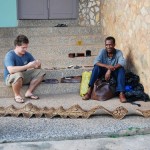 The big October excitements were mastering the art of falafel and acquiring a hen and seven chicks. Other than that, we enjoyed the usual diversions; progress with the FS2BD project, gardening, cooking, goat TV, visitors and shopping trips around town.
A MEAL TO REMEMBER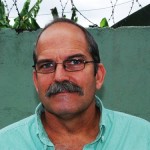 Happy Birthday to Bob and Justin! Another wonderful month featuring birthday celebrations, FS2BD project progress, goat shenanigans, thriving gardens, wetland exploration, market purchases and a glimpse of village life.
BILL AND BOB ARMANTROUT – GHANA, 1972
9
Bob's father, Bill is facing the […]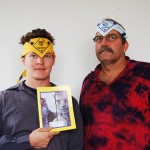 Fun at home and at work, with interesting guests and much garden progress during our second month in Kumasi
PASSIONATE ABOUT POOP
Or at least about the prospect of turning fecal sludge into biodiesel. At a visit to Kwame Nkumah Univiersity […]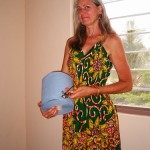 OUR LITTLE NEIGHBORHOOD
We live in a small neighborhood called Adiebeba (pronounced Ah dee ah bey bah), just south of the Ahodwo Roundabout. A rearing horse welcomes people to the area but there are no horses as far as we can tell. The streets are vibrantly alive with neighbors, […]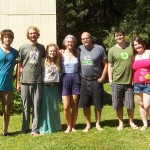 HAPPY BIRTHDAY, CAMILLE!
Fifty-eight years on the planet still somewhat puzzled by this thing called life but smiling nevertheless.
FROM ASHEVILLE, WITH LOVE
The sun shines brighter when Amy and Garth are in town. We were very happy that they drove in from […]