by Bob
Guam…."Where America's Day Begins"….
Yep, Guam is, geographically, where America's day begins but it is also where the American Dream ends
Guam is an island territory roughly 30 miles long and 9 miles wide, encompassing a population of about 160,000 people. It sits at about 13 degrees north latitude, smack in the […]

by Camille
This parable is the result of pouring over Chamorran history in an attempt to understand how they came to be what they are today. Somehow, it didn't make sense why modern Chamorrans seemed to have lost their pride while the Mayans in Belize were still […]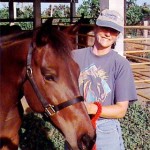 One of the first things we did when we arrived on Guam is begin seeking out the local horse owners. We called four stables and went visiting. We learned of other horse people in this way, which lead to an opportunity to do some part-time horse training.
There are at least 200 […]