KENTUCKY FRIED TOFU (OR TEMPEH) WITH PAN GRAVY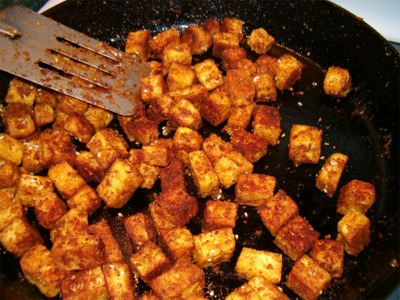 Tofu – 1 lb, firm, fresh, sliced 1/8 inch thick
Nutritional Yeast - 1 cup
Flour (whole wheat, wheat or rice) - 1/3 cup
Peanut Oil - 2 - 4 Tablespoons
Soy Sauce, Shoyu or Tamari - 2 - 4 Teaspoons
Pan Gravy:
Flour - 2 Tablespoons
Soy, Rice or Almond Milk or Water - 1 cup
Heat a large cast iron skillet, wok or electric skillet. Slice Tofu into thin slices (1/8 inch) and press into Nutritional Yeast and Flour mixture. [Note: the photos show cubes, but we've found the slices to work best for ease of frying and laying into sandwiches.] Flip and press breading into the other side. Remove to a side plate or cutting board. Add Peanut Oil to hot skillet on Medium to medium-high heat. When oil is hot, add the Tofu. Let fry well on one side before turning over. When the tofu is nicely browned on both sides, Drizzle Soy Sauce over it and turn off the heat. If there is more Tofu to be fried, rinse out the pan before adding clean oil.
To Make Pan Gravy: After frying the last pan of tofu, sprinkle Flour into hot pan. Add Milk or Water, scraping up the crusty pan bits and stirring constantly until it thickens into gravy.
Serve with mashed potatoes and peas, or corn on the cob, or noodles, or rice, or.....
Gets even better after refrigeration. Even tastes great cold! This recipe is the answer to any residual cravings any vegan might be having for Kentucky Fried Chicken!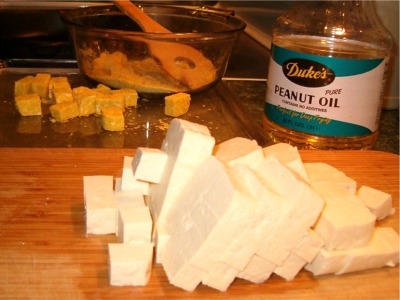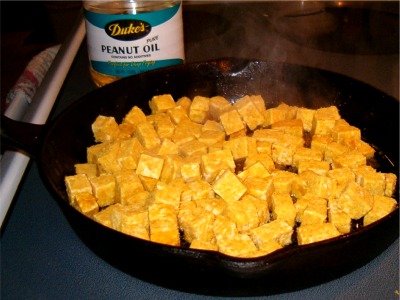 [ Home ] [ 101 Reasons ] [ An Pan Adzuki Bean Buns ] [ Baked Teriyaki Tofu ] [ Bread Making ] [ Breaded Seitan Cutlets ] [ Chocolate Beet Cake ] [ Ultra Moist Chocolate Cake ] [ Cuban Quinoa Salad ] [ Golden 'Chicken' Gravy ] [ Deep Fried Dandelion Blossoms ] [ Kentucky Fried Tofu ] [ Making Tempeh ] [ Potato Salad ] [ Seitan ] [ Trouts Vegan Curry ] [ Vegan Corn Chowder ] [ Veggeroni - Vegan Pepperoni ]